MACHINERY AND EQUIPMENT FOR CRAFTSMANSHIP AND INDUSTRY
Company Kobe inženiring d.o.o. offers complete solutions in the field of technological equipment for industry and crafts. In cooperation with numerous renowned european manufacturers we supply machinery for the woodworking industry, processing of plastics, residue processing and other industries. Our activities include consulting in the selection of the most suitable equipment for technological processes, its delivery and assembly. After commissioning, together with our partners we provide remote assistance, service and supply of spare parts.
We are active in the markets of Slovenia, Croatia, Bosnia and Herzegovina, Serbia, Montenegro, Macedonia, Kosovo and Albania.
We are looking forward to your inquiry!

This year our company has been awarded AA+ (Company Wall) credit rating, which places us among the companies with the highest credit rating in Slovenia and proves that we meet the highest standards of sound and reliable business partner.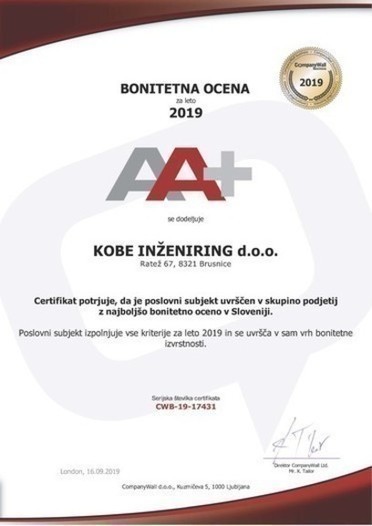 KOBE INŽENIRING d.o.o. Brusnice | Ljubljana
CONSULTING | SALES | ASSEMBLY | SEVICE | SPARE PARTS